Someone told me that April 1st was a bad day to start a novel, so I started today instead. I wrote one word :) My goal is to write one chapter a week, for however many chapters it takes for the book to be finished.
I've located a progress bar:
Sadly, my one word is insufficient to show up on the progress meter.
Several other members of Codex are also writing novels at the moment, and as further motivation, I will be trying to earn badges, like the one shown below (unlike this sample, most of the badges are for completion of actual work) — the full list of badges is up on my website.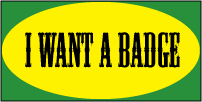 As I earn badges, I'll post them here. If you're writing something, and would like to use the badges to decorate your blog, go right ahead.