I had a great time at Norwescon this weekend!  This was my second time going to the con, and my first time on programming.  My reading slot was at 10:30 Friday morning, so I wasn't sure how many people would be awake and around…but I ended up with a packed room!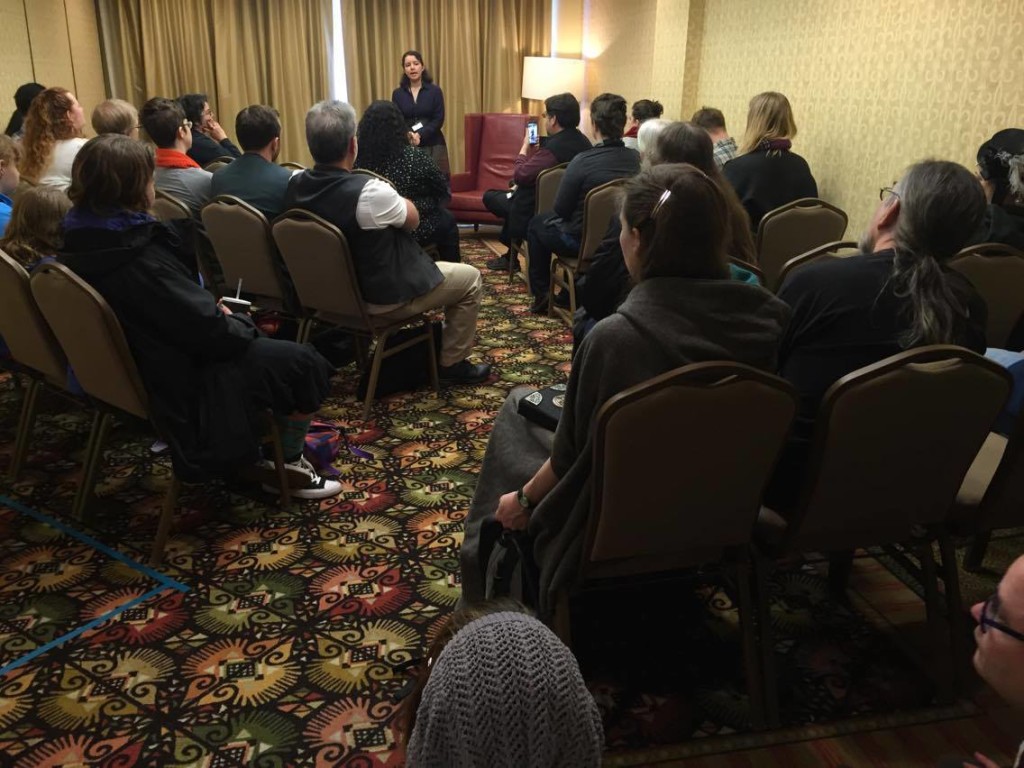 My fantastic audience!  (photo courtesy of Randy Henderson)
I read "The Right Place to Start a Family,"  a short story that I'd written for Alex Shvartsman's anthology Humanity 2.0, which is due out later this year.  I also sang my Lovecraft/Little Mermaid song:
---
In addition to my reading, I was on two writing panels (one on rituals of productivity, and one on the art of critique), and two panels about aliens.  The panels went well–my co-panelists were fantastic, and there were some great questions from both the moderators and the audience.
But the best part of cons, in my opinion, is hanging out with people.  I met a bunch of people that I formerly only knew online, and got to hang out with some old friends, too.  I'm not going to name drop because I inevitably forget someone, but the whole weekend was a blast.
---
Missed me at Norwescon?  I've got an assortment of upcoming events:
May 1 – From Idea to Story   Tina Connolly and I are co-teaching a Clarion West 1-day workshop.  From the class description:  Writers often start with one piece of a story—e.g. an amazing setting, a fascinating character, or a cool scientific discovery. It's a great idea with lots of potential, but now what?
May 25, 7:30pm – I'm doing a reading at Cafe Racer for their Two Hour Transport series.  It's a really cool concept–they do an hour of 5-minute open mic readings, followed by longer readings from a couple featured authors.  Sign-up for open mic starts at 7pm; open mic readings run from 7:30-8:30ish, and then the invited readings start at 8:45pm.
August 17-21 – I'll be at MidAmericaCon in Kansas City